The birds are singing, the grass is green, and the putts are dropping once again at Kingswell Glen.
Some (odd) people think golf is a good walk spoiled. Others think walking spoils good golf.
If you find yourself in the latter camp, this post is for you!
Not everyone comes to Kingswell Glen for the walk. That's why we have carts! So let's talk about things to keep in mind if you're one of the Classy cruising Kingswell on a cart:
Course Care
Cart paths are part of the course for a reason, so please stay on the cart path if there is one.
If you see signs on your journey, please slow down, read them, and follow the instructions. Some signs tell you where to go next, if your cart needs to stay away from a certain area, etc.
Some parts of the course can be sensitive, so we direct cart traffic to protect the course. Driving on the rough can also help with course maintenance, especially if it has been excessively dry or wet, since longer grass tends to be more resilient than closely mown areas.

In last month's post on greens care we talked about the work that goes into the greens. Keeping carts away from the greens helps everyone have the best experience possible.
A good rule of thumb is to keep power carts at least 25 – 30 feet away from the greens at all times.
And remember that if carts aren't allowed near greens, they are not allowed on the greens either. This goes for the tee blocks too, please.
Safety First
Safe driving is mostly common sense — no racing, sharp cornering at speed, or playing bumper cars with your buddies. When these things happen there can be damage to the course and the carts…and that's not Classy.
If you're on hills, slow down. If it's wet, avoid puddles and standing water.
Paying attention to things like this is easy to do.
Oh, and while we know some of you may enjoy a couple adult beverages during your round, please don't drink excessively while driving a cart.
Thinking About Others
While golf is one of the best activities to social distance from other groups, we're not totally isolated on the course. How we use carts can impact others.
(Hopefully not literally!)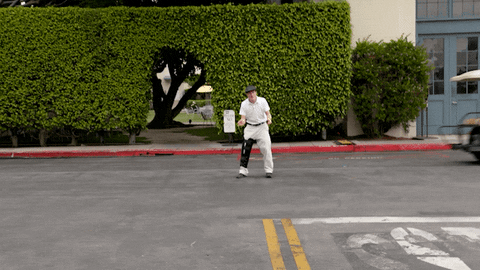 Remember that music on the course is fun, but not everyone appreciates your choice in music as you drive by. They're probably wrong, but rather than argue with them it'll be easier to turn your volume down.
If you're sharing a cart with someone, keep an eye on pace of play. One way to speed up rounds is to have the driver drop off the passenger, drive to play his or her own ball, then come back to pick up the passenger. In the meantime, the passenger could even walk to the driver.
This speeds up the round for everyone behind. (Win-Win.)
Here at Kingswell Glen, we are so happy to hear the sound of the carts taking off from the first tee again.
And if everyone follows the tips here, we won't have to worry about those carts getting into trouble mid-round — and we can rest easy knowing you're out there having a great time, making memories (not ruts in the greens).

---

For a good time, call Kingswell Glen — or book a tee time online!
And to stay connected to all things Kingswell, make sure you sign up for our weekly newsletter.