Improve Your Game From Your Phone With These Golf Tips
While the recent rain may have kept us off the course, they say that every cloud has a silver lining. Of course, you might be wondering what that sliver of positivity could be when you aren't able to enjoy your favourite game in the great outdoors.
What could possibly be something to do if you can't play on the course?
Practice!
Apparently it helps…who knew? 🤷🏻‍♂️
Dave McKinlay — Kingswell's resident PGA of Canada Head Professional — knows the value of putting the time in to hone your game — and if you were following along on YouTube this summer, you would know that too!
There is a chance that you haven't had the opportunity to enjoy his helpful virtual lessons, so we thought we'd share them with you here.
While we aren't giving away any secrets about how to land a hole-in-one and become one of the Kingswell Aces, we hope these tips will help you make the greenside bunker your friend…or at least not your mortal enemy.
Whether you aren't sure where to start with your golf game, or you want to brush up on some basic skills, this is the right place! 👇
Lesson 1: Golf Grip Hand Positions
Ben Hogan is known as one of golf's all-time great professionals.
In his book Five Lessons, Hogan devotes the entire first chapter to the golf grip because it's the one point of contact golfers have with their equipment.
As it turns out, Dave has something in common with Ben Hogan – because Dave devoted his first YouTube lesson to this same topic!
Hogan Begins His Book By Saying That "Good Golf Begins With A Good Grip."
In this video, Dave walks you through three different types of grips you can try – the baseball, the overlap, and the interlocking grip.
Each option comes with pros and cons, and the grip you end up going with will depend on which one feels right. A lot of beginners will start with the baseball grip, Tiger Woods uses the interlock grip, and Dave himself uses the overlap grip.
We'll leave it to you to figure out which one feels best for your mitts!
Lesson 2: Golf Putting Tips
One of golf's other all-time greats, Happy Gilmore, let us know that the secret to golf is to just tap it in.

Happy makes it sound so easy…but it's harder than it looks.

And it's an easy skill to overlook; many people love getting out to the driving range to work on those long shots, but Dave's personal (and professional!) opinion is that putting is more important than hitting the ball.

To give you a leg up the next time you're on the course, spend some time working on your stance, head position, and alignment — and to learn how to do that, be sure to tune into Dave's second virtual golf lesson.
Lesson 3: Warmup Before You Play
If You're Anything Like Us, You May Find Yourself Running A Little Late For Your Round From Time To Time. When That Happens, It's Tempting To Go Straight Into Your First Drive.
Even if you are flying by the seat of your golf pants to make a tee time, in this third golf lesson Dave reminds us of the importance of doing a warm-up — no matter how brief.
You can benefit from hitting even 10 shots before a round to loosen up before your next round and get your silky-smooth swing ready for the course.
During the summer season, we have a hitting net for you to warm up with, and during the off-season you can take as many swings as you want with our indoor simulators.
Lessons 4 And 5: Bunker Shots
The phrase "sand trap" makes the bunkers sound much scarier than they are — and if you get nervous when your ball rolls into a greenside bunker, you aren't the only one!
That's why Dave has not one, but TWO videos about bunker shots for you! Hopefully they will help you learn how to hit what Dave calls "one of the easiest shots in golf".
In fact, if you're in trouble in the rough, Dave recommends that you aim for a greenside bunker — it'll be easier to get out of trouble and onto the green from there!
In his first bunker lesson, Dave suggests that for shorter greenside bunker shots you should set your stance to aim a little left, open the club face, and think of a "V" as you swing.
In the second bunker lesson, Dave talks about longer bunker shots and how a "U" shaped swing will help you get the ball to the hole.
And one parting tip from Dave: no matter what bunker shot you're hitting, always remember to follow through!
If you found these tips helpful — and you'd like some eyes on your own swing — make sure to book a lesson with Dave! Golf lessons are available all year long at…
The Kingswell Indoor Golf Academy

With Dave McKinlay, PGA Of Canada Head Professional
Investment
Adult | $60 per lesson
3 Pack of Adult lessons | $150
Junior | $ 40 per lesson
3 Pack of Junior lessons | $100
Winter Junior Group Lessons | $250 per junior
Saturday Mornings from 8:00am – 10:00am
Nov 13th, Dec 11th, Jan 15th, Feb 12th and March 12th
You Don't Have To Wait Until Next Golf Season To Improve Your Game!
We hope these tips will inspire you to keep practising, even if the weather prevents you from physically getting out on the course.
After all — the game of golf teaches us that we always have a chance to try again, and to do better!
Keep your eyes peeled because we'll be back at it with our virtual golf lessons in 2022, sharing some more of Dave's best tips to help you improve your golf game — without leaving the comfort of your home.
If you have any requests, don't hesitate to let us know…maybe we'll get lucky and next year, Dave will show us how it's all in the hips. Right Dave? 😉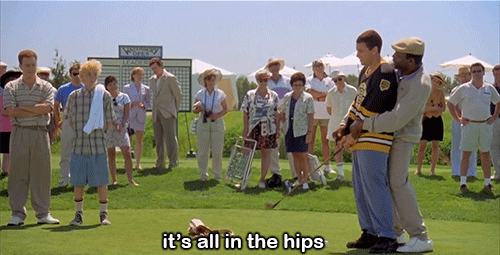 Keep your eyes on the blog because next up, we're talking about how golf is a mental game. 🧠